Four of the US Olympic gymnasts who were sexually assaulted by Dr. Larry Nassar testified Wednesday before the Senate Judiciary Committee. We are now learning, not only how their stories were ignored by FBI investigators, but how reports containing the intimate details of their experiences were falsified. 
Justice Department's Inspector General Michael Horowitz's report claims the FBI's report contained "materially false information and omitted material information." One of the victims, McKayla Maroney, said, "Not only did the FBI not report my abuse, but when they eventually documented my report 17 months later, they made entirely false claims about what I said."
Listening to their testimonies, I couldn't help but draw parallels to similar patterns or practices that have taken place right here in JCPS. There are so many examples, but memories of one episode in particular came flooding back as I listened to these brave women give their testimonies.
Where Our Story Begins
On October 10, 2019, JCPS's office of Compliance and Investigations received a request for an investigation from a principal at an elementary school in West Louisville. The actual complaint was that a white kindergarten teacher (we will call her Ms. S) was making inappropriate comments about the students in her care. The names she called them, according to witnesses we spoke to at this same elementary school with a 97% non-white population included, "monkeys, dummies, and little shits."
We did an open records request to obtain a copy of the full report of the investigation and a number of things jumped out to us. Right off the bat, one can see that the allegation was carefully worded to soften the impact and narrow the scope of the investigation to focus simply on inappropriate comments that were said TO the students, as opposed the original complaint, which was that these words were being said ABOUT them, (as if calling them these names behind their backs and other inappropriate behaviors would not have been investigated). In addition, according to several witnesses we spoke with, the investigators appear to have only asked questions that would put the white teacher under investigation in a positive light, skewed which details that made it into the report, and even changing one teacher's answer to an outright lie, while appearing to deliberately not address whether the teacher used these inappropriate terms in other settings. Why did this teacher have so many allies willing to go to such great lengths behind the scenes? How did she feel so confident that she would not be found guilty? These questions and more remain, but let's talk about what we do know.
One of those witnesses is another kindergarten teacher at the same school (who is also white). She was one of several individuals interviewed during the investigation into Ms. S's behavior. That teacher told us that when she met with the investigators, she remembers distinctly telling them that she heard Ms. S use the derogatory terms in question. She told us that she felt a sense of personal satisfaction after the investigation, because she felt she had been forthcoming and had given the investigator information that she hoped would result in a just outcome. You see, this teacher under investigation had also bullied an exemplary Black educator at this same school, ultimately causing her demotion and transfer to another school, and she had been a witness to that series of events, as well. That's also another story for another time.
The teacher we spoke with had hoped her willingness to testify and put herself in the crosshairs would lead to some form of redirection or discipline for Ms. S, and hopefully some reprieve for the students who experience harm and trauma in her care. To date, that still has not happened.
We shared a copy of the report with her, and when she saw how they framed her testimony, she cried. She told us the report told nothing of the detailed personal experiences she shared with them in those two long hours. Furthermore, it misconstrued the truth by making it appear that the only question they asked about whether or not she called these 5- and 6-year old boys and girls disgusting names was "to their face," as if racism only matters if the people you're being racist against catch you. Well, old girl got caught. Lastly, the report contained an outright lie. In the second paragraph of her report, it says "she does not think Ms. S. is inappropriate." The teacher we spoke to remembers clearly stating that she did find Ms. S' behaviors inappropriate.
We believe, much like the FBI investigation of the US Olympic Gymnasts' reports, the JCPS investigation also contained "materially false information and omitted material information." This investigation, which union representatives also had a hand in, also created a hostile work environment.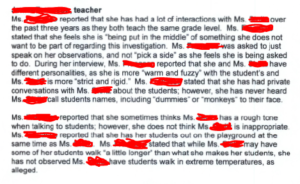 The teacher revealed to us that she had viewed the interview as an "opportunity to get everything off her chest to someone high up in the district." She said she told the investigator, along with the union representative, how Ms. S treated the kids, her lack of effort, her lack of caring, her belittling words, how she has hurt other educators and kids in the building, etc. in the hopes that these allegations would be looked into, for the safety and well-being of the students. She told us, "I cried in that meeting. I really unloaded. I was assured by [the investigator] that everything I said was confidential… I really felt like I was on the right side of everything. I am waiting for this report to come out because I can't wait to see what it shows. That's going to be an example. I really put my trust in the system. They have what I said. It's coming out!"
Falsified report
But that's not what happened. The two paragraphs from the nearly 2-hour interview that made it into the report only cared about whether or not Ms. S had made these inappropriate comments "to their face." The teacher told us, her voice still cracking, "Yes, I've heard her say, let's pick up the little shits from gym. I've heard her say they're dumb and they can't do anything, when we are making our goals for yearly expectations. And I've heard her call them monkeys. I told them I don't care that she didn't say it to their face. It shows what she thinks about them." None of that made it into the report. 
Shockingly, but not surprisingly, Ms. S was found innocent in the investigation.
Whether it's US Olympic gymnasts or JCPS teachers, patterns or practices like these are not uncommon. What they are is unseen. In the case of the Olympic gymnasts, "It truly feels like the FBI turned a blind eye to us and went out of its way to help protect," Simone Biles said, "I also blame an entire system that enabled and perpetrated his abuse." "A message needs to be sent: If you allow a predator to harm children, the consequences will be swift and severe. Enough is enough." How do we stop these abuses from continuing to happen? How do we bring attention to them, so those responsible can be held accountable? How do we bring justice to the victims?
Who knew what when?
When it comes to justice for the victims, and preventing it from happening again, questions of "who knew what when" still need to be answered. Concerning JCPS and this incident, following the advice of Superintendent Dr. Pollio, we reported what we knew to Jodi Renn, of JCPS Compliance and Investigations, on August 7, 2020. The role union employees and investigators played in this process also warrants further investigation. I may have to make this the focus of a book I'm working on that I hope to publish before the end of the year. Stay tuned for that as well.
The fallout
Ms. S's knowledge of the contents of the other kindergarten teacher's testimony also created a hostile work environment and even led to a shocking confession from Ms. S in a text message sent to the teacher we spoke with, which we posted on our Facebook account on August 13, 2020!

About that racist white kindergarten teacher who caused all of the harm and trauma in the first place? She is apparently still wreaking havoc at a different JCPS school, with an 85% non-white population. The teacher we spoke with had hoped her willingness to testify and put herself in the crosshairs would lead to some form of redirection or discipline for Ms. S, and hopefully some reprieve for the students who experience harm and trauma in her care. To date, that still has not happened.
And this incident is just the tip of the iceberg. We hope to bring more information on this and similar patterns or practices in future posts. If you have related information you would like to share, please email moderator@dearjcps.com. 
Alternatively, you can complete our survey to receive information about a possible class action lawsuit that is forming. Requests for anonymity will be respected.