Dear JCPS,
On the topic of continuous improvement, I bring you a question, a suggestion and an invitation.
Question
In May of 2014, state Auditor Adam Edelen published a report that found a few areas where improvement in our district was recommended.
It found:
JCPS ranks at or near the bottom in teacher staffing and expenditures for instruction, while ranking highest in the categories of administrators, support staff and instructional aides.1 
Specifically, he found that the district pays 369 administrators more than $100,000 a year.2
JCPS also had the second-highest student-to-teacher ratio,
JCPS ranked the lowest in instructional spending, (at 53 percent of its budget (four of the other five were 60 percent or higher), while ranking highest in administration and operations spending, at 31 percent of its budget.)
JCPS students face more restrictions on access to textbooks and had the lowest textbook budgets. More than half of teachers said students couldn't take home textbooks.
JCPS provides inadequate instructional resources for all students (taken from a survey of more than 1,500 of JCPS' 6,400 teachers)
90 percent of teachers spent personal funds to supplement classroom resources.
Question: How are we doing with these numbers today?
Suggestion
Also in Edelen's audit was a recommendation to add an at-large board member. As a district of choice, we have a need for broader representation. I believe it is time our school board move forward with this recommendation and add not one, but two new positions (in order to keep an odd number for purposes of voting). Have one of those members be from the community at large, and one of those members be student voice.
Invitation
Having attended the KDE work session on charters yesterday in Frankfort. I found the presentation to be factual but I felt that the facts that were presented leaned more toward favor of charters, and may have omitted some of the risks and downsides some of the groups opposed to charters have identified. This is concerning and presents an opportunity for education of our community members if we want to ensure legislation that will not undermine the success of our existing public schools.
Because legislation can move quickly, and the topics can be complex, it is imperative that we begin now educating and informing our community about trappings and pitfalls of charter school legislation and learn from other states that have gone before us.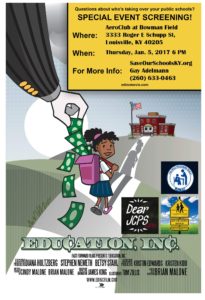 Our organization is part of a coalition with Save Our Schools KY, which is a pro public education advocacy group that seeks to educate and inform members of our community about pending charter legislation in our state and to empower and mobilize constituents to communicate concerns with their elected officials in order to ensure quality legislation.
On January 5 we will be hosting the first of many screenings of the film Education, Inc. We also invite other organizations to join in the coalition for a more informed and mobilized community.
If you would like a flyer, please see me afterwards.
Since I still have a few more seconds, let me add:
It is important that the things that make Louisville and Kentucky special not be lost with any charter legislation, and I would like to recommend these topics be included with your legislative agenda. For example, SBDMs should be part of every public school. In addition, charters should not take funding from public schools. Also, JCPS is already a district of choice, so clarification of "what problem we are trying to solve" with charters should be communicated to legislators.
Thank you,
Gay Adelmann